So you thought the small GPS devices for skating, running and biking were cool, right?
Think again!

Because brand new from our tech-labs comes MooooVE, the first wearable GPS speedometer with an ultrabright huge LED display.
You will not have a speedometer, you will BE a speedometer on the run!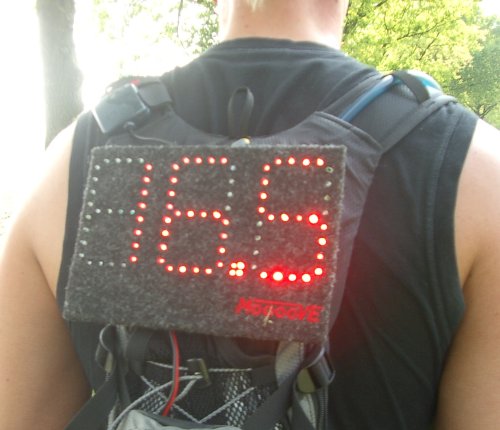 And when standing still, you turn into a thermometer:
---
Features:
Shows live GPS-speed
Shows temperature when you're standing still
88 ultrabright red LEDs
MooooVE was launched on May 5, 2006
For more information:
---
MooooVE in the media:
2006-05-12 Algemeen Dagblad/Utrechts Nieuwsblad:

"Na de tussenstop gaat het tempo een stukje omhoog. 14.9 km per uur laat de rugzak van een vrijwilliger zien."


2006-06-07 NRC-Next:

"Hij draagt een display op zijn rugzak mee waarop, via een gps-systeem, de snelheid wordt doorgegeven."